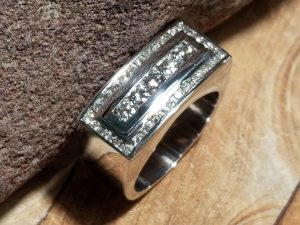 CUSTOM DESIGNS
Designing a special, custom piece of jewelry for our customers is the most enjoyable part of our business. We just love the excitement created when you see the finished piece for the very first time!
Here at Enchanted Jewelers, we can transform your old gold and gem stones that you no longer wear. We can melt down your gold to make a new and updated piece of jewelry, thus saving you a lot of extra money towards your new piece of jewelry. DON'T SELL YOUR GOLD, MELT IT!
We begin the process by sitting down with you, talking about what you envision and together we sketch your ideas until we have the right design for you.
The next step is for us to carve your design in wax form using updated Cad Cam Design Software. We then visit with you again so that you can see what your design will look like. Once in wax form, and only after your approval, we will begin the casting process.
Your custom wax is transformed into metal and ready for our expert jewelers to polish and set your stones into your new creation.
REPAIRS
It is very important to have your jewelry inspected for wear. A good rule of thumb is to bring your jewelry to Enchanted Jewelers every six months or any time you feel something is just not right. Keeping up with the maintenance on your jewelry can save you a lot of expense in replacing diamonds or precious gems.
Repairing jewelry is a large part of our business. We have highly qualified jewelers who have been repairing all types of jewelry for over 20 years each. We also have the most up to date equipment in our store, so we can repair all types of jewelry including costume jewelry, antique jewelry, and silver and turquoise jewelry.
All of your jewelry is repaired in our store and in most cases, our turnaround time is four days or less. Repairs consist of anything from soldering a chain to re-fabricating a piece that went through the garbage disposal or vacuum cleaner.
All of our repairs have a warranty for 90 days on the work that was completed on the piece brought in. The warranty would apply from the date of your repair receipt.
We can also clean and inspect your jewelry while you wait, at no charge to you.