We have been customers of Enchanted Jewelers for about 9 years. We happened to come across them when deciding to melt down old jewelry to make a custom ring. I'm so glad we made that decision because since the first visit with them they won us over as lifetime customers, we will never shop at any other jewelry store. They have designed several pieces for us over the years. Anytime we have a new design or new idea, they are always so helpful with their input and always willing to make any changes for us. A few of our designs consist of 2 rings for myself, 1 ring for my husband and 1 ring for our daughter. I believe her ring is the smallest in size that they have ever made. We get so many compliments on our rings and we are always happy to say that they are custom pieces. Over the years as a customer, I have turned my family into customers as well. We highly recommend Enchanted Jewelers.
Olivia & James Montoya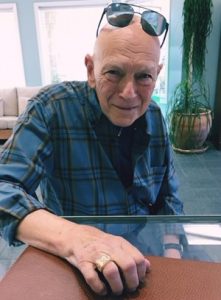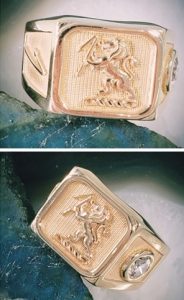 Looking for someone to craft a unique jewelry piece? I interviewed several jewelers. I chose Enchanted Jewelers who agreed to take on my project, an item of remembrance entitled "My War Ended"
I wanted to use three symbols for the piece and we decided on a ring to incorporate these symbols.
The project was a team effort. During planning sessions, I enjoyed outstanding advice, suggestions and work from the entire staff. The owner, his wife, and the staff constantly communicated, recommended changes and crafted an outstanding ring. The symbols selected became alive, beautiful, and unique.
Enchanted Jewelers, the owners and staff are the most creative, innovative and exciting company that I have had the pleasure of working with in the creation of my "one of a kind" ring.
Several months have passed and I continue to receive compliments on "My War Ended Ring". Strangers stop me and ask where it was purchased.
My response, "Enchanted Jewelers created it for me". Stop by their shop for distinctive, quality jewelry pieces and outstanding customer service!!
Mr. Emmons
Marriage. The most ancient and sacred of pacts between humans. The rings. Symbols most
cherished and treasured, in some families, down through the generations. Even when the rings are only meant for a single couple, they are one of the most precious remembrances.
When my wife and I were planning our wedding, the question of our rings gave us pause. Conventional rings did not turn our eyes. Upon discovering the Enchanted Jewelers, we found a widely varying array of rings: plain, ornate, and unique designs. However, their offering of custom cast rings, unique to our own personages, drew us inexorably to choose them as the creators of these, the physical embodiment of our eternal promises to one another. Throughout the whole process, their kindness and passion in ensuring our rings were immaculate, cast a bond between us and them. They became family as they shared our joy. These rings, the symbol of our love, forged another loving relationship, a relationship between our family and theirs.
Upon completion, the rings were nothing less than perfect, a testament to their craftsmanship. Through the years, we have stayed in contact, and we have had the great pleasure to obtain several pieces from them, including more custom work. We have no doubt in our minds that they are the finest jewelers we have ever known, and we shall continue to seek them out for every ornamental question or challenge we have.
Mike Ulrich


Enchanted Jewelers is the ONLY jeweler I trust? I've been going to them for over 10 years now, and will continue to keep them as my jeweler for years to come! They treat me with kindness and have done everything from creating many beautiful custom pieces to repairing gold chains, to ring sizing, you name it, they have done it!
Robert, Louis and Julia along with the rest of the team are the best and most knowledgeable jewelers I know!!

Stephanie Martinez
I have been going to Enchanted Jewelers for almost 20 years. I have gotten to know them all very well. In my opinion they are the most personable people in the business. They make you feel like part of the family, not just a customer! Jewelry wise these people are amazing. I'm always making custom jewelry and one of a kind stuff that nobody else has. Enchanted Jewelers has never ceased to amaze me and has always gone above and beyond my expectations on any projects we have taken on together. They are simply the best!
Thanks Enchanted Jewelers!
Chris Sutton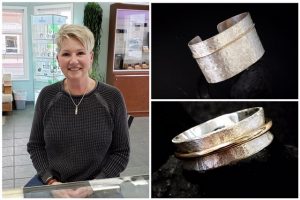 Enchanted Jewelers custom designed four pieces for me; two necklaces, a ring and a bracelet. The pieces are magnificent, better than I imagined. The jewelers work with you on ideas, make recommendations, ask questions and create incredible pieces. Enchanted Jewelers are truly customer-focused in ways you don't think about until you work with them. They strive to delight their customers. Visit Enchanted Jewelers, they will be your jeweler for life. They are mine!!!
Trish Hames
Amazing staff. They are such amazing people. Felt like family. They did a custom ring for me. They listened and helped me create the ring of my dreams. Melted down my late husbands and my wedding set, my late mother's wedding ring, and added an elk ivory tooth from my boyfriend. Absolutely beautiful!!! Also made a custom medallion for my boyfriend. Patron saint for hunters. Had it blessed and will take it with him when he goes hunting.
Nanette Sanchez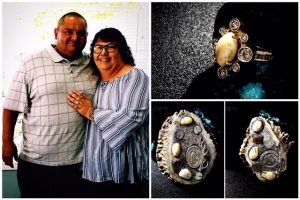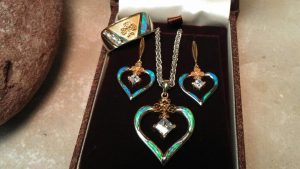 Picked up our custom designed earrings to match the custom pendent Robert designed 2 years ago .. The best jewelers we have ever worked with.. They make you feel like part of the family!! Robert and staff thank you for our custom pieces and always helping us achieve that dream custom piece of jewelry.
Kristina Mullan-Saul
The most knowledgeable, patient and caring jewelers in Albuquerque! The entire staff at Enchanted Jewelers treat each customer like family and go the extra mile in quality service.
Debbie Hancock McCormack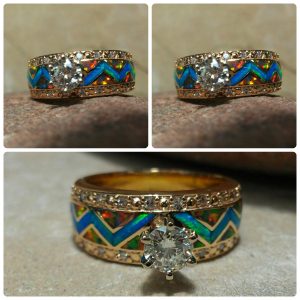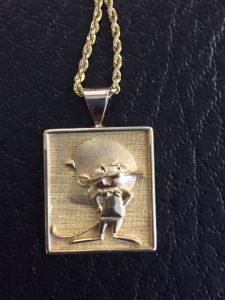 Love, Love, Love high quality merchandise and excellent personal design pieces, customer services far exceeds any other. The best!
Kathleen Sisneros
Great place! Love the service!
James Joe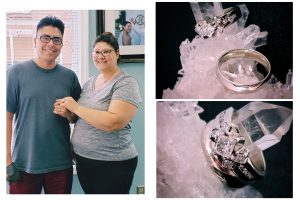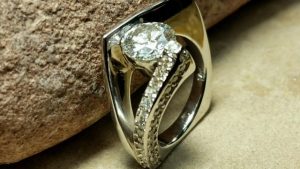 Enchanted Jewelers – WOW – my favorite stop when it comes to fine jewelry or custom pieces. I travel extensively, domestic and international, yet I keep coming back to Enchanted for all my needs.
Robert and Julia know my taste and do whatever is needed to make sure I get the right piece. The custom designs made for me have been unique and of the highest quality.
KS